As a farmer you can craft items that can either be used to get CBX or can be sold to other farmers who may need them on their farms. Let's explore all the various items that you can craft on your farm.
PMIX (Pro Mix)
Farmers can visit the Kitchen and choose to craft Pro Mix. In the crafting screen, farmers will need to select a combination of extracts and Fruit Feed. Pro Mix can be made with 11 fixed combos where FRF can be combined with 1 type of Pro Extract and 1 type of regular extract.
The ingredients required to craft Pro Mix may change in the future.
Pro Mix formula: FRF + (Any Pro Extract) + (Any regular Extract)
Here's an example of ingredients required to craft Pro Mix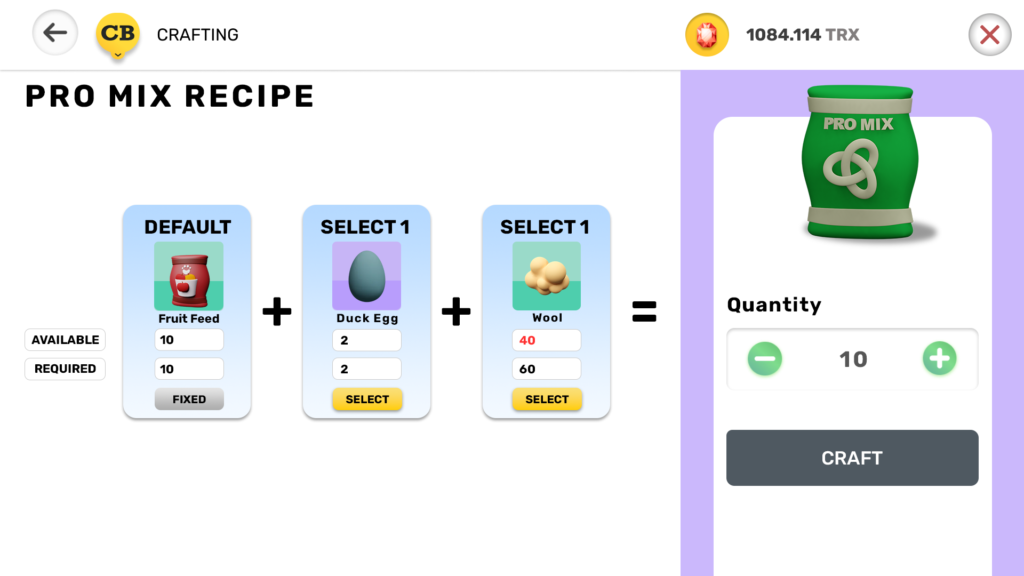 All Time High price of Pro Mix – 4.6 CBX
SBF (Superhero Breed Feed)
This item can be crafted in the farm kitchen by combining various produce in your inventory. SBF is utilised by those who breed Superheroes on their farm. Superheroes have unique abilities that improve the output of a farm and many upcoming use cases within the ecosystem. This makes SBF a highly valuable resource in the market.
Crafting SBF also required a set of ingredients which can be produced on your farm. Check out the image below to know the combination of assets required to craft SBF.

All Time High price of SBF: 17 CBX
From items that help you mine new assets to feed for Superheroes, the possibilities are endless as you put together a farm that's out of this world. And as the CropBytes economy grows, so will the crafting options available to you. So sharpen your skills, grab your crafting tools and let's build a successful business.
---
Follow On CropBytes on Social — Facebook, Twitter, YouTube, Instagram