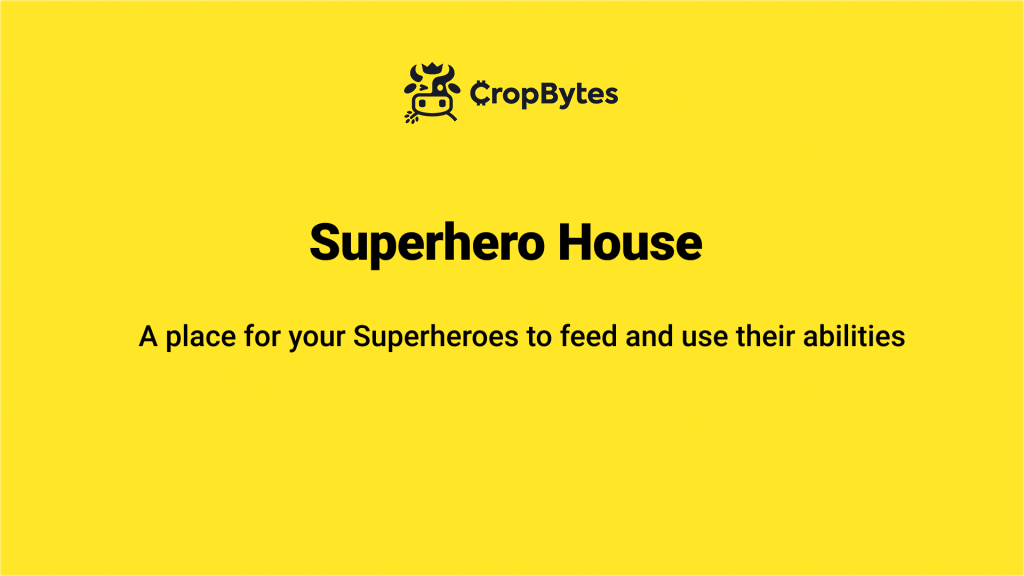 A place for your Superheroes to feed and use their abilities
Hey Farmers,
Trading is at all-time high & Active users are increasing daily.
As we have new market launches weekly, we are also working on launching some awesome features of the game.
Superheroes are cool assets that help boost your farm's output. Their abilities are useful and can be beneficial if used wisely.
We are glad to announce the release of Superhero Houses. They can be placed on your farm and leveled up by stacking, Houses are required for breeding, feeding & using Superhero abilities.
Let us look at how houses work in the game.
Empty house
A level 0 house can't be used by your Superheroes, they need a cozy place to live and use their abilities. To upgrade, players must buy a house from the exchange or convert their Game Coins (GC). Daily feeding for Superheroes can be done with a level 0 house.
Convert 15000 GC to get a Level 1 house 👉 Convert Now!
Upgrading a House
House can be upgraded to accommodate more Superheroes.
To upgrade:
Place your level 1 house on your farmland.
To upgrade your house to level 2, Place another house on your farm.
Add more 2 houses to upgrade to level 3.
Levels
1 house: Level 1
2 houses: Level 2
4 houses: Level 3 (max)
Capacity
One room will accommodate 1 male & 1 female superhero.
Level 1: 1 room
Level 2: 2 rooms
Level 3: 4 rooms
*Capacity is subject to change
Feeding & Using Abilities
Abilities work only for Superheroes that live in the house. Players must select Superheroes to accommodate the rooms in the house to use their abilities and feed them.
If you have 4 Superheroes and a level 1 house, you can select 2 Superheroes to stay in the house. Only these two will be able to feed and use their abilities.
Downgrading a House
Level 1 house can be traded in the CropBytes Exchange.
To downgrade a house, Superheroes need to be vacated from the rooms. Once empty, the house can be sent back to your inventory 1 level at a time.

For more information on Superheroes check out this post.
Note:

Superheroes can not use their abilities while breeding or vice versa.
Feeding is needed for all Superheroes whether they are in a room or in the shed.
Missing feeding will reduce the health bars.
Once abilities are turned off it takes 24 hrs to be able to breed or restart abilities.
To breed Superheroes a House must be available in your inventory. Vacate your house and send it back to inventory, then head to Breeding page to start the process.
Soon breeding will be enabled on the app.
Superheros are all set for their life on the farm, get them, and use their abilities to boost your farm's output!
More updates coming soon.


Stay tuned.
---