Hello Farmers, we're thrilled to unveil a set of innovative features as part of our Q3 2023 roadmap. Let's dive into these exciting additions.
Speed Fishing Mode
Get set to reel in excitement with the all-new Speed Fishing Mode! Since its launch in March 2023, it's taken the CB community by storm where 1000s of CBX has been earned by skilled anglers, and now we're adding even more adrenaline-filled changes.
Introducing the all-new Speed Fishing Mode!

Please note: The Weekly Fishing Tournament in Classic Mode will continue, the new mode is an added feature.
Catch-All Chaos: Say goodbye to the small-medium-large order. Now, the faster you fish, the faster you score. And remember, each fish is unique, and their speed and behaviour will challenge you in new ways. Prepare to see some rods sizzle!
Bonus Boosts: Boost your points with bonus missions. How about catching 3 small fish in a row for a 3x bonus? Complete these exciting tasks to boost your scores!
Faster Reel-ins: Faster casting and quicker reeling add an extra rush to the game. Big fish are reeled in 2 seconds, medium ones in 1.5 seconds, and small ones in a speedy 0.5 second. It's all about quick action!
Player-Driven Prizes: Ever since March, you've been asking for it, and here it is: there is a pool entry fee for the Speed Fishing Mode which adds up to the total pool. Invite your buddies, and let the competition begin. Remember, the more friends you bring in, the more the pool reward at the end. The pool reward minus a small platform fee, goes to the winners. So, it's all to play for!
All-New Game Lobby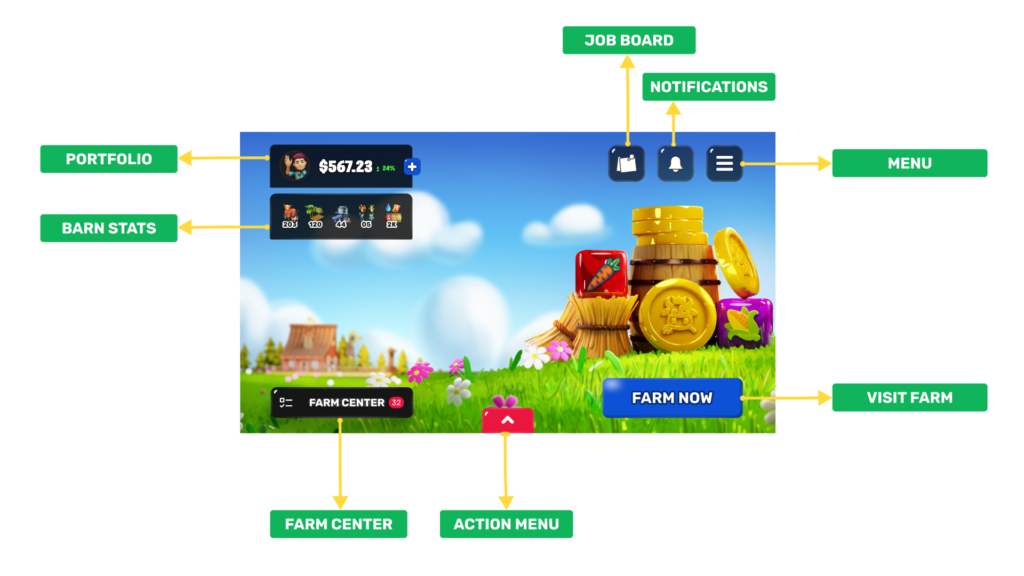 Say hello to an even more immersive farming experience in CropBytes! Whether you're just planting your first seed or are a seasoned farmer, our brand new lobby is the ideal hub to kickstart your day on the farm.
As soon as you launch the game, you'll be welcomed into this easy-to-navigate lobby. From here, you can overview your daily tasks, peek into your inventory, and find shortcuts to key areas of your farm—all from this fresh, central screen!
Our aim is to simplify your farming journey and help your business grow like never before. So let's jump right in—new adventures and bountiful harvests await you in CropBytes!
UI/UX Improvements
We're thrilled to announce some valuable updates that we've seamlessly incorporated into our recent releases, as part of our commitment to continuously improving the UI/UX of the game.
In this release, immerse yourself in the freshly added, visually engaging animations. You may notice a change in Tree Selection, Deployment, and Send-To-Barn Action.
In conclusion, we're focussed on offering you an exceptional gaming experience with CropBytes. Our Q3 roadmap will bring more exciting features and improvements, promising an adventure-filled journey for all our players. We can't wait to see you explore these updates. Thank you for your continued support, and as always, happy farming!
---
Follow On CropBytes on Social — Facebook, Twitter, YouTube, Instagram