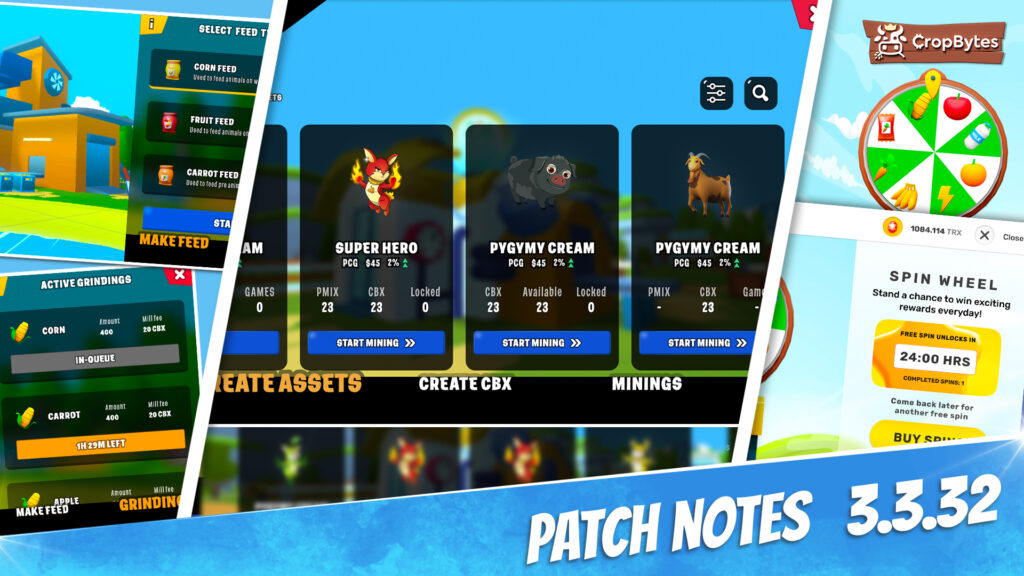 Greetings, Farmers! We're excited to present the new features as part of our Q3 2023 roadmap. Let's explore these updates and see what awaits us in the coming weeks.
Wheel of Fortune is Back!
Your relationship with the old Wheel was one of love and hate, but we're hoping that you will just love the new wheel where you stand a chance to win rewards everyday and also boost up your chances for winning bigger rewards by doing paid spins.
Boosting Asset Value with a new Mining Logic
It's time for a refreshing twist! We have introduced a streamlined supply logic for our coveted Pro Assets – from the legendary Superheroes to the majestic Pro Animals.

While our current Difficulty logic for mining CBX and standard assets has its merits, we acknowledge its complexities. It's robust, yes, but also wrapped in intricate mathematical formulas.

We've taken a cue from the past, analyzed data, and are now armed with a refined, no-nonsense strategy. Our goal? Efficiently regulate asset supply minus the convoluted formulas.

Check out the updated White Paper Sections for the latest info:
Superhero Gen 0 mining
Pro Animals Mining
Your gaming experience is improving!
The age of AAA web3 games is just over the horizon. And we're ready to be in the top leagues by improving all aspects of gameplay, especially the user experience. Apart from the improvements made already, we're adding some more clean elements that you will take note of immediately.
Here are all the visual changes in 3.3.32 Patch release:
💎New VFX & SFX for Harvesting
💎Skip button added to the onboarding screens
💎Live / Animated lobby background screen
💎All new elements and info in the mill screens to grind crops
---
Follow On CropBytes on Social — Facebook, Twitter, YouTube, Instagram