Ready to reel in $1000 worth of rewards? Check out how you can participate in the exclusive 'CropBytes: Fishing Tournament' for the PlayDex community.
Participating is easy, just follow these steps.
Step 1: Visit the tournament section on PlayDex and find CropBytes. Or simply redirect to this link: https://playcap.io/tournaments/crop-bytes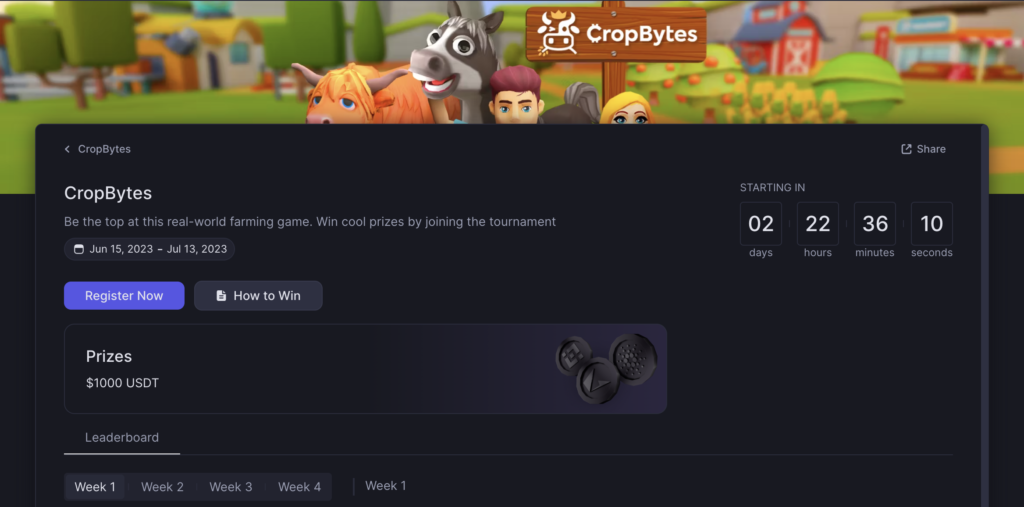 Step 2: Hit 'Register' to connect your wallet if you haven't already done it. Once you've registered, the screen should look like this.
Step 3: Hit 'Play Now' to redirect to the tournament page. Please note, if you're loading CropBytes for the first time on the web, it may take a while to load. All subsequent requests will be fast.
If you're entering CropBytes for the first time, you will need to sign up. Once logged in, all subsequent redirection from PlayDex will take you directly to the tournament screen.
However, CropBytes is a farming simulation game with a real P2P economy, we recommend you to check out the game and start your journey as a farmer.
Step 4: Once you enter the Fishing Tournament, click on 'Private Tournament' and you're ready to start making it to the top of the tournament leaderboard. Check out the 'How to play' section below to know more.
How to play
Catching Fish: You need to start by catching the small fish, use that as bait to catch the medium fish, use that as bait to catch the big fish. However, instead of using a fish as a bait, you can also collect them to clock points. Strategize and gather maximum points in the time limit to make it to the top of the leaderboard.

Leaderboard: The leaderboard stays live for 1 week where you can do unlimited attempts to get the best score.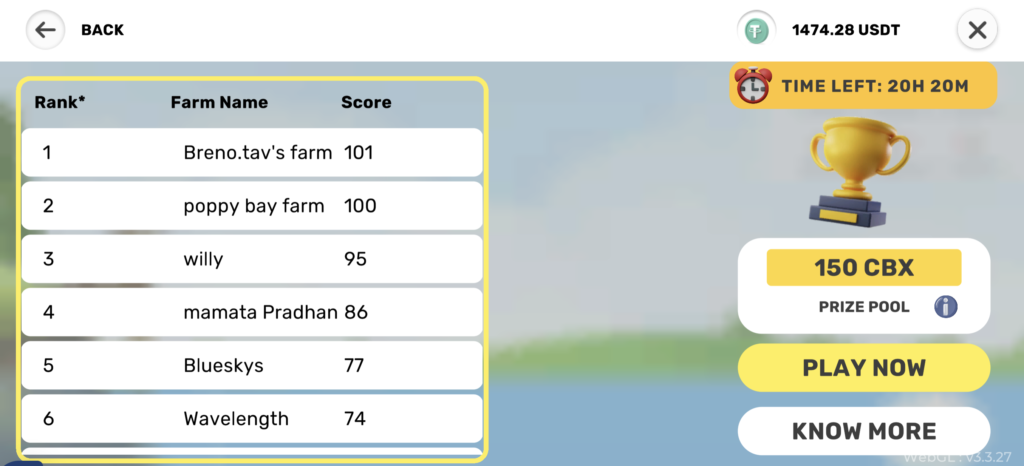 Tournament Rewards
1st Place: $100
2nd Place: $75
3rd Place: $50
4th Place: $15
5th Place: $10
Tournament Schedule
June 15th – 2:00 AM (UTC) – Start time
June 22, Week 1 End, Week 2 Starts
June 29, Week 2 End, Week 3 Starts
July 6, Week 3 End, Week 4 Starts
July 13,Week 4 End, Tournament Ends
Note what's important
Time Period: Tournaments have a start and end time. Make sure to participate within that time frame.
Rewards: Exclusive rewards for the top five scorers in each tournament. Will you be one of them? Each session lasts one Week and at the end of the week, the top scorers will grab the rewards.
Limited Slots: Each tournament has a limited number of slots. Make sure to secure your spot!
So, what are you waiting for? It's time to cast your line and reel in some big catches in the CropBytes Fishing Mini Game Tournament.