---
Hibernate animals to pause health and feeding.
The hibernation feature will soon be tweaked to Animal Grazing. Click here to know more.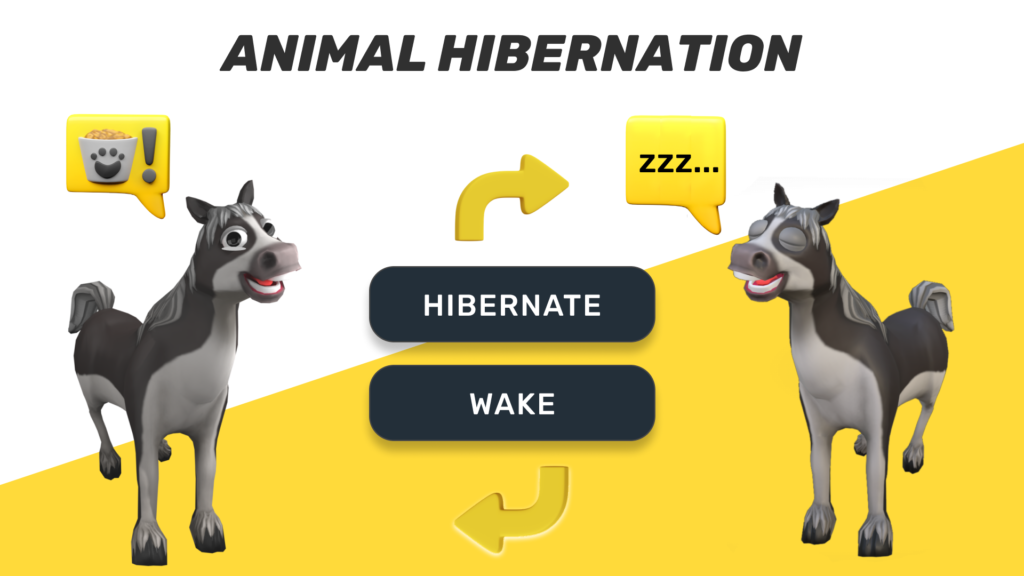 Hey Farmers!
We're glad to announce the launch of Animal Hibernation
You can now hibernate your animals to pause their health check and feeding. During hibernation, animals will not produce extracts.
From the start, the CropBytes community has actively shared their input to help us build a better experience for everyone. Animal hibernation is another such feature that's built with input form our community. We're always listening!
Let's deep dive into how animal hibernation works!
Hibernating Animals
To hibernate an animal, head to the barn and click hibernate. Hibernation applies to all the animals of the same type. Feeding for that day needs to be complete before it can be hibernated. Once animals are in hibernation, a 12hr wait time is required for them to wake up.
EG. If the user has 3 x Zing and 2 x Badshaw in his shed, He will need to feed all the animals in the shed before being able to hibernate. Once complete, he can select Zing and pause it. All 3 Zings in the shed will be paused. Badshaw will not get affected.
Waking Animals
Animals in hibernation can be woken by clicking the wake button in the inventory. Once an animal is awake, feed will have to be given for that day. Missing feed will result in a loss of health.
The following attributes are applicable to the animals in the different states.
Rules for Animal Hibernation
Hibernation is applicable to all the animals of the same type.
Feed is required before an animal is hibernated.
Once an animal is hibernated, it can be removed from hibernation only after 12hrs.
Feed is required on the day the animal is awake. Missing feed will result in a loss of health, and missed extracts.
---