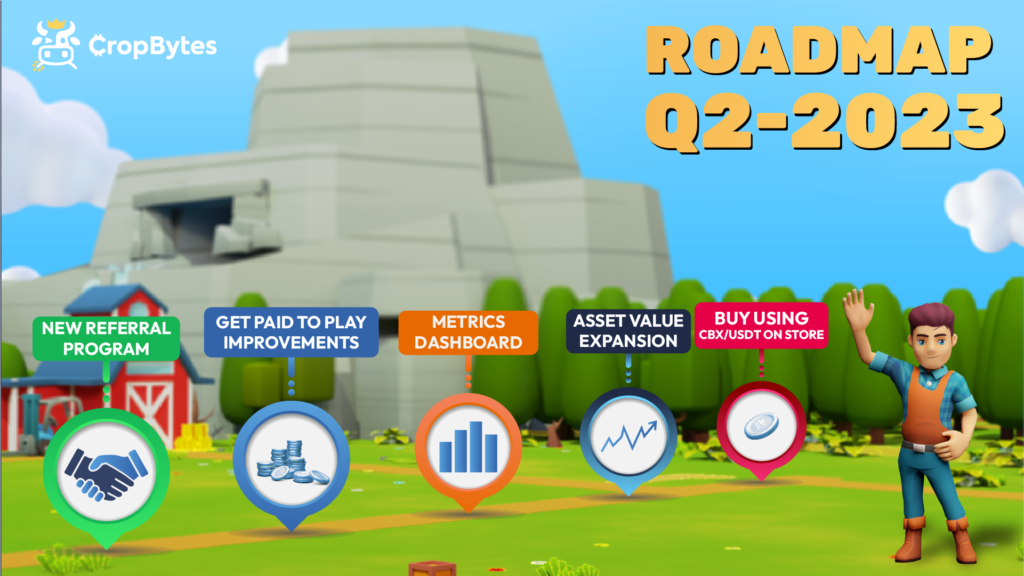 Saddle up and hold onto your hats, farmers! A new harvest season is here in CropBytes! After successfully tokenizing our game assets on the Polygon chain as ERC 1155 tokens in March 2023, we're excited to reveal what's next as part of our Q2 roadmap. Our main focus this quarter is on transparency and enhancing the user experience. We'll be working hard to create more value for assets, users, and the overall economy.
Game Enhancements
Get Paid-To-Play: We are excited to announce that we are introducing a new feature that will allow users to make their job postings private.The option to make jobs private means that users will have the ability to post jobs that won't be visible on the public job board but will be exclusively available for the private community.

In an effort to make asset mining even more streamlined and efficient, we are introducing the option for users to auto-post all jobs. They can skip the process of manual job postings which will in turn save their time and effort.
Game Mechanics & Visuals: Our team is always striving to enhance the gameplay experience for our community. In the 2nd Quarter, we're bringing new visuals to the terrain, along with improved game mechanics. We're also working on improving onboarding and core game loop activities to make it easier for new players to get started and for existing players to progress.
Game Performance Improvements: We're committed to delivering a smooth and seamless gaming experience to our users. In Q2, we're focusing on improving security, fixing glitches, and optimising the app for better performance.
Fishing Tournament: The new Daily Fishing Tournament is a hit among farmers. Soon, players will also be able to pay & participate in a variety of tournaments where they stand a chance to win rewards.
CBX Supply Optimization: We're improving the CBX mining protocol and bringing about changes that will optimize and positively impact the overall supply of CBX.

We take community feedback very seriously and are constantly improving our game's features and mechanics. We will be sharing more updates on the timelines of action items that were previously announced in our production pipeline. This quarter, we will also be doing exclusive feature calls with the community to discuss plans and feedback.
Creating more value for the assets in the Web3 gaming community
We are working on listing ERC 1155 game assets on Open Sea, NiftySwap, Tegro, and other platforms. This will increase the visibility and value of our assets, making it easier for users to trade them.

Our plan is to enable users to withdraw their assets to a blockchain wallet. This will ensure that they have more control over their assets and enable them to grab the opportunity that exists outside of the game.

To keep it simple for players, the withdrawal of game assets is implemented similar to CBX, USDT & TRX withdrawals. This will help the users to securely and conveniently transfer their assets between their CropBytes account and external wallets.
Game Metrics Dashboard
Transparency is crucial to us, which is why by the end of Q2, players will see a public dashboard to track metrics around CBX and markets. This dashboard will provide more visibility into the game's economy and market trends, giving players more information to make informed decisions.
New Referral Program
The new Referral Program aims to enable users to earn rewards through an upgraded rewards system. As users ascend through the referral ladder, they will be eligible for bigger and better rewards.
Introducing CBX/USDT to the store
As per feedback from the users, we have added the option to purchase packs, grease, and seeds using either CBX or USDT to suit their unique needs and preferences.
What's next?
We're excited to announce that we have an entire quarter dedicated to bringing you even more amazing updates! While we can't reveal all of the details just yet, we promise that these new features will bring even more value and fun.

One of the most exciting updates we have in the works is the Superhero Game, which is being planned in this quarter.

This quarter, we will also be working on a plan to bring in a suitable use case for Tropical Islands, which will introduce new challenges and opportunities for players to explore. You can expect the new features to go live by the 2nd half of this year.
So stay tuned, Farmers, we can't wait for you to experience everything we have in store for you!
---
Follow On CropBytes on Social — Facebook, Twitter, YouTube, Instagram