---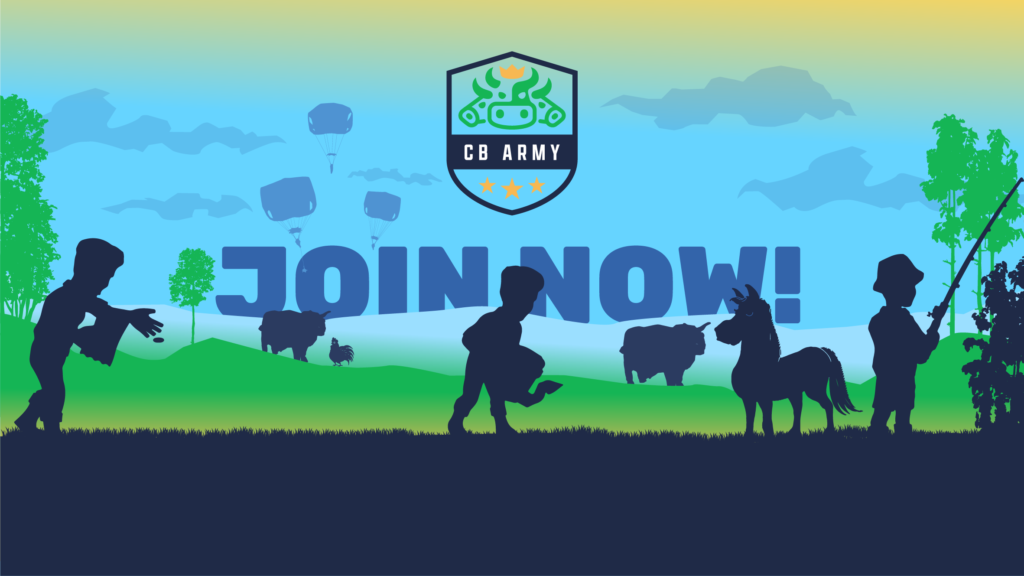 Become a part of the "CropBytes Army" and earn rewards for completing missions. Join a team today to meet new farmers and grow together. 👨‍🌾👩‍🌾
CropBytes Army Program: Structure and Milestones

Every player joins in as a soldier. Soldiers are required to join a team of their choice. A player/soldier moves up the ranks when he forms a team of his own.
For EG.
Become a captain when you have a team of 25.
Become a Major when you have a team of 100.
The rest of the ranks follow. Refer to the chart above.
Team leaders will join in on weekly calls with the marketing team to share their team's progress and plans. The Team leaders will collaborate with their teams to complete missions assigned to them. Every month, we will reward the best performing team/team member and their leader. This selection will purely be based on the effort and achievements of the team. Similarly, we will also pick the best performing Soldier weekly.
As a part of the CB Army, here is what you would do:
1. Sharpen your skills:
Understanding the game and how the economy works. We will help you gain this knowledge through upcoming events and workshops.
Know CropBytes well. Understand our values, our mission, and the app/services well.
2. Manage your team:
As a leader, you would have to lead your team through missions.
Keep track of your team's activities and attend weekly calls with the CropBytes marketing team.
Motivate your team members to grow the gaming community through various activities.
3. Help others get started:
CropBytes is more than just a farming simulation game. It may be intimidating for new players, especially to someone new to crypto. As you have been through this process and are now seasoned players, It's apt for you to help them out along their journey. This means:
Be an Educator for the people around you.
Talk facts, don't sell the game or be hyper-real about it
Guiding them about getting started, how to invest, what to do once they get started.
4. Create Buzz:
Organize events, online meetups in other communities.
Invite your friends and join in events.
Organize webinars and online activities.
Create content: Status updates, facts, memes, videos. Create content that people want.
Be active on Twitter, Reddit, Facebook, YouTube, Whatsapp groups, Telegram groups and any other social platform and build the community.
Create memes. Memes are Education. 😉
Answer questions.
Follow each other.
Be an Army man (show it off).
Help each other out. Retweet, Like, Share. Work as a team.
Did we mention Memes?
Help us connect with influencers for campaigns. You have direct access to the marketing team.
Reach out to crypto/blockchain Education providers so we can support them.
Show how many people you helped, how many questions you answered.
Take screenshots, click pictures, record videos when you explain the game to people.
Send it to us, so we can showcase it to the world.
Tell us how you introduced the world to CropBytes.
Collaborate with your team members to build strategies to complete missions. A team that plays together, wins together!
As a part of our army, this is what you will get:
Be friends with the CropBytes marketing team.
Learn and enhance your understanding of crypto and crypto gaming from the best in the business.
Get training and reading materials.
You will know of the developments at CropBytes before anyone else.
Be a leader in your area/community.
Get your articles published on the CropBytes blog.
Made a great video? We will post and/or share on CropBytes channels.
Your content on CropBytes social media!
Get early access to test features.
Represent CropBytes in events and conferences.
Get trained to be a speaker/host for our events.
Recognition on social media.
Have an army support you.
Most importantly, you will make history by being part of the team that brought Crypto Gaming to the world.
This initiative is beyond monetary benefits. But here are some rewards you can earn along the way.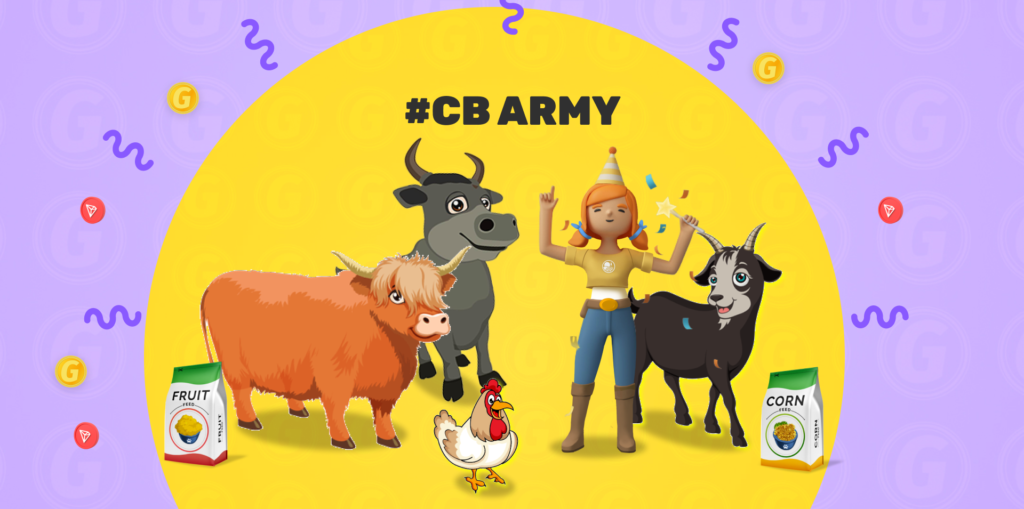 Rewards will be distributed to the best performing team/ team member and the leader once a month.
We will also pick a 'Soldier of the month'. This will be awarded to the highest contributor to the CB Army missions. The reward will be a lucrative asset.
Earn a reward for every rank you move up.
Leaders will get extra rewards only if they meet the requirement,
The referral bonus for everyone who signs up through you (Referral Program)
Rewards for soldiers with a high number of referrals. 😉😉
Badges and rewards for extraordinary soldiers in the Army!
Badges to be earned:

🥇 CB Angel – The most helpful member in the main TG.
🥇 CB Guru – The one who has taught the most.
🥇 Master Memester – The one with the funniest memes.
🥇 CB Artist – The one with the best posters.

Many more rewards. Full details will be disclosed once you join the program.
CropBytes Army Handbook
Your go-to guide for info, resources, and more. 👉https://bit.ly/3dbwpQL
CropBytes Army Reward Guidelines
Signup for the CB Army
👉 https://forms.gle/krCxakNp3fXUhz7R8
For Soldiers
How to start:
To sign up for the CB Army, please follow these steps
Step 1: Head to the Discord community: https://discord.gg/wRwyGpnmNa
Step 2: Get verified in the '#📖rules' channel by clicking on the '🚜' icon
Step 3: Head to '#join-cb-army🪖' and follow the steps mentioned there
Duties
Complete weekly missions.
Help players in the community
Report any fraudulent activities to your leader.
Benefits
Get rewards when your team wins.
You get to be a part of the awesome CB Army.
For Leaders
If you wish to start your own CB Army team, please contact admins in the community.
Duties
Manage your team.
Join and host events.
Report any fraudulent activities to the CropBytes team.
Benefits
Get bonus rewards based on your rank.
Be friends with the CropBytes marketing team.
Get monthly updates on your team's performance.
Terms
A soldier can only be with one leader.
A soldier will need to be part of the team for at least 15 days to be eligible for the team reward for that month.
A soldier can not change their team for 3 months, once they join.
Soldiers and leaders will go through a selection process, the list of new soldiers and leaders will be added to the #CBarmy on Fridays. The names of recruits will be announced on our channel: https://t.me/ccropbytes
If a soldier wishes to change their team, they can do so by contacting their leader.
To be eligible for rewards, soldiers need to fill the 'Mission Submission' form every week.
Soldiers completing activities for less than 5 points a week will not be eligible for rewards at the end of the month.
Army members can be disqualified for the following reasons: Bad conduct, spamming, providing misleading information or if inactive in the activities.
CropBytes has the right to disqualify anyone from the program if they are found to be doing any fraudulent activities.
Point Allocation
Activity in the community (will be ranked internally)
Tweets, Post, contest participation (1 point each.)
Quality original blogs (10 points)
Quality, appropriate video online (25points)
---