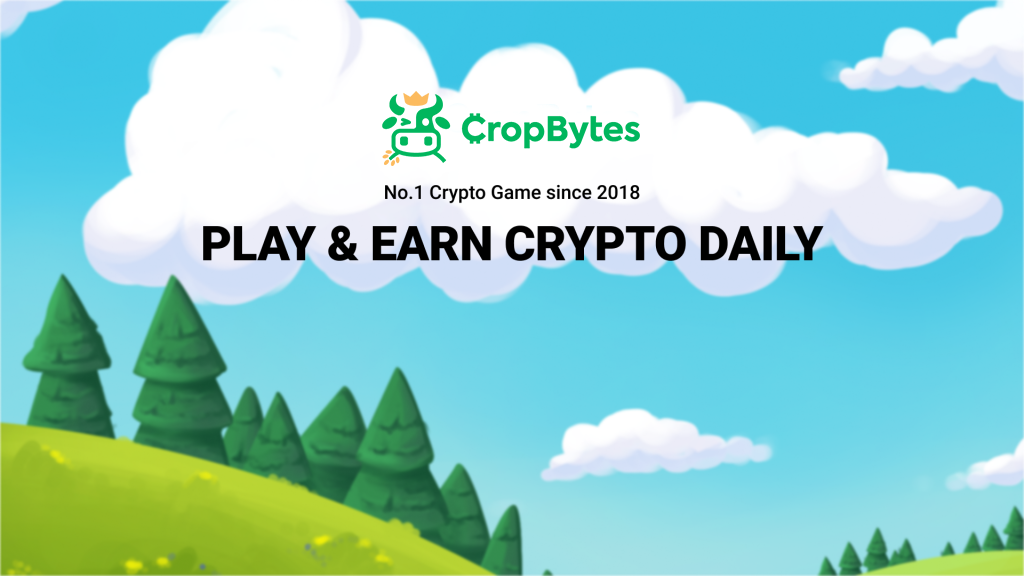 A brief on the Journey & growth of CropBytes, A game loved by Blockchain enthusiast.
Since online gaming began, game developers have been struggling with payment, piracy, safety, and trading. Gamers were also troubled by grey market prices and the availability of assets.
Blockchain technology has brought a solution to this age-old problem. Developers are now using blockchain & cryptocurrencies to solve these problems by giving players true ownership of assets, Ease of trade, and accurate pricing. All this with the security and immutability provided by the blockchain.
Games have been using virtual currency for a long time. Though crypto has a learning curve,gamers quickly adapt to the idea of these in-game tokens being crypto. Since it benefits gamers too there is a growing demand for better crypto games.
Crypto games are driving crypto adoption by giving people a chance to learn and deal with blockchain & cryptocurrencies. It is also great for investors to directly invest in games by buying assets, or tokens.
CropBytes is a game built by a team of veteran gamers, developers, and blockchain believers. It is crafted to benefit creators and players alike. A game where everyone can earn cryptocurrency and be a part of the Blockchain Revolution.
Here is how the CropBytes grew ovetime
Version 1 : An functional app
In 2018, CropBytes entered the Crypto-Gaming industry with the first version of the game.A simple farming simulation game with a lot to offer. Players loved the fact that it worked without any complicated wallets or software and that it supported mobile devices as well as desktops.
CropBytes is the first crypto game to launch on Android, IOS & Web.
The game received a lot of appreciation from the crypto community. It brought in the initial users, some of which are top-ranked CropBytes players today.
As the user base grew, the community around the game grew as well, Feedback, reviews, and questions were analyzed along with trends and markets. Changes were made to the game and in 2019 the second version of CropBytes was launched.
Version 2: The age of enhanced features
The second version featured a modernized User interface, better graphics, more assets, animals, and improved gameplay. It also featured the first-ever exchange style trading in a game, Game Coins (GC) / Tron (TRX) was the first trading pair.
This update brought in another huge wave of crypto enthusiast to the game,The game expanded rapidly with sold-out flash sales week after week. The demand for game assets increased, which pumped up the price of goods and assets. Daily trading volume crossed 10,000 worth orders for the first time!Features are progressively introduced to the game by analyzing the feedback, response, and statistical data.
Version 3 : Making it big!
The latest version of CropBytes features a beautiful 3D game environment with high-quality graphics, new Ui, 3D elements & more.Upcoming features include a TPV mode (third-person view), integration of more currencies, and 'CropBytes Exchange' for which beta testing will begin shortly.
CropBytes Exchange is one of the biggest breakthroughs in gaming. Even modern games today use traditional list-style trading. It's an outdated concept and lacks key features that are found in the new exchange.
This modern form empowers players to easily examine and predict the price of assets. Furthermore, it intimates a fair price for assets based on the supply and demand for it. It is a crucial aspect of an open economy.
Trading leads to the growth of an economy, Once the exchange is released, trading will restart in the CropBytes economy which will help it thrive. Investors and players will be able to buy into the platform through a word-class exchange.
The latest version of CropBytes is built to compete with the best farming simulation games out there, The CropBytes 3D app on Google Play Store & Apple App Store has received a lot of downloads already. Analytics predict exponential growth in the coming months.
Soon CropBytes will introduce Staking and Mining. These features will enable players to generate value in the form of assets, tokens, and objects inside the game, which will be trade-able in the exchange. This will gradually grow the economy while making it self-sustainable.
The future looks great of CropBytes and will carry its title of the №1 Crypto Game and the first Crypto Game to achieve mass adoption.
Stay tuned for more.