Enjoy the winter in the virtual world with a new snow theme packed with live snow❄️ decorations 🎄☃️ a snowman & more 🎅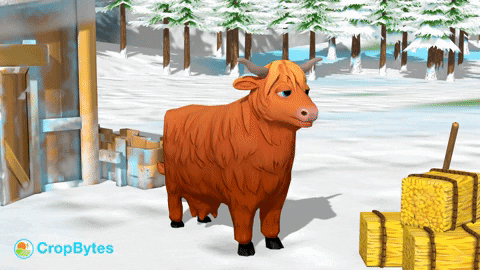 What more?
A special Christmas Event where you can unlock an interactive 3D skin for your Highland Cow 🐄
Terms 📜
Complete 10 referrals to unlock an Interactive Highland Cow skin.
Highland Cow (HGC) owners will be able to use this skin when unlocked.
Players who have unlocked the skin can use it when they purchase a Highland Cow from the exchange. (If you don't have a highland cow)
Christmas event rewards are independent of the Invite and earn program.
No additional task is required by the referrer or the referee to unlock the reward.
Referrals after migration will be counted.
Any player conducting fraudulent activities with regards to the CropBytes Christmas Event will be denied any further participation in the program and earlier bonuses will also be withheld.
If any fraudulent activities are noticed, CropBytes has the right to disqualify the players or take necessary action.
The Christmas event ends on 5th Jan 2021.
---