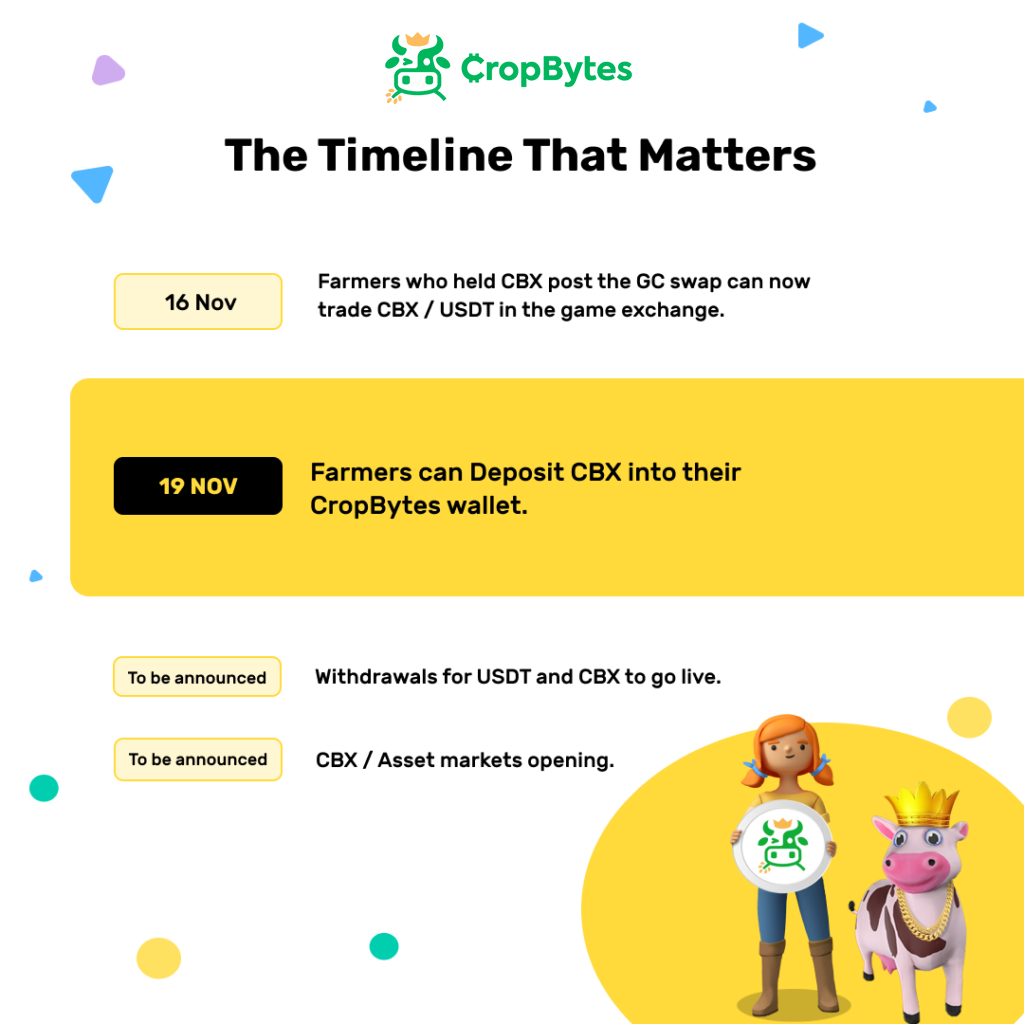 Make sure to follow this blog to stay updated with all things CBX IEO and changes in the game.
<The blog will be updated as and when more announcements are made>
TIMELINE

23rd Oct: GC mining and burning halted.
Conversion of extracts to GC and GC to pro assets and Superheroes halted until CBX system integration.
24th Oct: GC : CBX swap ratio announced.
The swap ratio of GC to CBX is 1 : 1.2. There will be a special airdrop of 1.68 CBX for every GC which will be locked for 3 months and gradually unlocked in 12 subsequent months.
25th Oct: Joint IEO announcement with Bybit and MEXC
Bybit and MEXC are our launch partners for CBX. The token will be listed on more tier 1 exchanges in the coming days.
28th Oct: Position snapshot and listing date announcement from Bybit & MEXC
Bybit event: Over a 5-day period, the daily average BIT balance in your Spot Account and ByFi Account will be automatically recorded through hourly snapshots. It will be updated at 3:00AM UTC every day.
MEXC event: In this session of MEXC Launchpad, a Lucky Draw format will be adopted. MEXC will count the MX tokens in your exchange account (both locked and available) to calculate the average daily MX position.
All details that users need to know about participating in the CBX launchpad events were shared by our partners.
30th Oct: Animal health bars disabled.
Until tokenization of assets, animal health bars are disabled. Farmers can continue to feed their animals to get extracts or choose to not feed them. The animal health bars will be reset one last time before moving on-chain. After tokenization of assets, a health reset will not be possible.
2nd Nov: GC/ TRX trading pair stops at 3:30 PM GMT
All orders in the GC/TRX market will be cancelled, and the amount will be credited to the players' accounts. After the market stops, GC position snapshots will be taken to determine CBX airdrop for each farmer.
<More details coming up>
4th Nov: Bybit & MEXC holding position snapshot ends.
Draw results will be released on November 5. Participants can visit the Bybit & MEXC Launchpad page to check if they are holding on to any winning tickets.
5th Nov: 12:00 PM UTC – IEO & Listing of CBX on Bybit & MEXC
Our token CBX will be open to the world for trading, this opens up CropBytes to many more possibilities in terms of scaling and development.

Details of launchpad events hosted by Bybit and MEXC will be updated on their portals.

CBX Page
5th Nov: CBX/USDT and TRX/USDT trading pairs on CropBytes exchange
CBX/USDT and TRX/USDT trading pairs go live on CropBytes exchange. Deposits for USDT will be available after listing on 5th Nov. Withdrawals for USDT and deposits/withdrawals for CBX will be enabled shortly, we will keep you posted.
6th Nov: CBX conversion completed.
Farmers will now be able to view their CBX holdings in the funds page. A page with all the details of the unlock schedule of the special CBX airdrop is live.

Know more
6th Nov: USDT Deposits: Now live
Farmers can now deposit USDT funds and also trade TRX/USDT market.

Deposit USDT
16th Nov: CBX / USDT Trading pair is live in the game exchange.
Farmers who held GC and got CBX in their wallets after CBX integration can now trade CBX with USDT in the game exchange.
19th Nov: CBX deposit on CropBytes is live.
The ERC-20 CBX wallet is now accepting transfers.
---
Upcoming announcements:
⭐Withdrawals for USDT and CBX
⭐Listing of Assets/CBX trading pairs in the game exchange.
⭐Tokenization of assets, thereby going fully decentralized. Some of the starter pack assets will be listed for trading.
⭐Extracts to CBX conversion begins.
⭐CBX burning to mint Superheroes and pro assets begins.
---
Telegram Channel: Subscribe
Telegram Community: Join Now
Social: Facebook, Twitter, YouTube, Instagram