---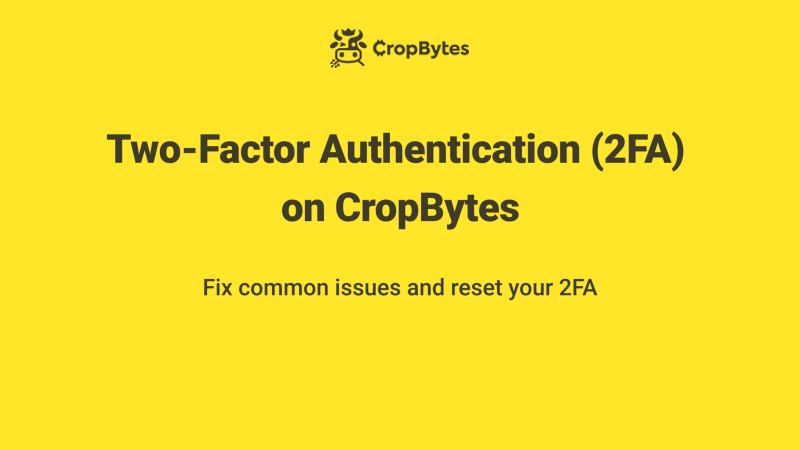 A quick guide on how to get your 2FA working!
Lost or stolen phone
Reinstall the app on another device and try recovery with master key phrase.
Getting Invalid OTP
Very rarely, you may see an "incorrect or expired OTP" error when you enter the OTP from your authenticator app into CropBytes. This happens when the time on your authenticator app is not in sync with CropBytes. Here's how you can ensure you have the correct time on your authenticator app
Android
Open the authenticator app & tap on Menu.
Tap on Settings.
Tap on Time correction for codes.
Tap on Sync now.
IOS
Open the iPhone Settings app.
Tap on General.
Tap on Date & Time.
Enable Set Automatically. If it's already enabled, disable it, wait a few seconds and re-enable.
---
For resetting 2FA
If you have lost the recovery code, send us a 2FA reset request on support@cropbytes.com
Note: Due to security reasons manual 2FA reset requests will be processed within 14 working days.
Requirements:
1. Take a video holding any official ID proof and stating the reset request and registered email in English. Make sure in the video, the following details are properly visible.
Your face
Your name and address on the ID Card that you are holding.
Reasons your verification video might be rejected:
If your face is not visible
If details written on your ID card is not visible
Make sure you are taking the video in a well-lit environment. Make sure to avoid reflections/glare in the video.
2. Answer the following questions in the email body:
Approximate TRX balance
Recent Trades
Deposit amount
Deposit addresses
3. Email the video and the rest of the details to support@cropbytes.com
We will deal with the email ticket within 14 working days once received. After verification, the Google Authenticator linked to your account will be unlinked. You can login and set up Google Authentication again to secure your account.
---
Telegram Channel: Subscribe
Telegram Community: Join Now
Social: Facebook, Twitter, YouTube, Instagram
App: Android | IOS | Web