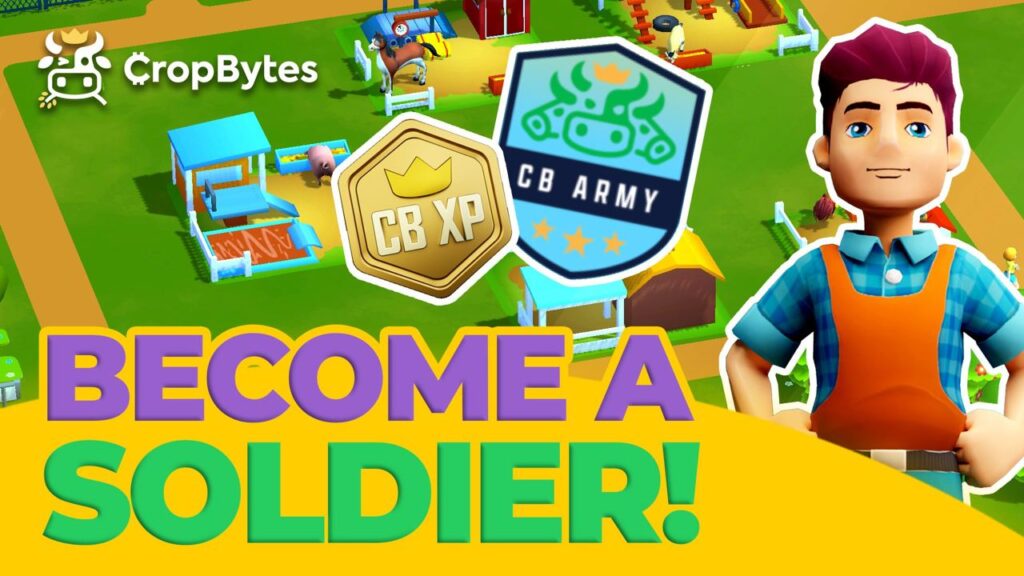 In 2021, something remarkable happened in the CropBytes community: The birth of the CB Army program. It was a momentous occasion, one that brought together over a thousand dedicated players under a common banner. Now, in the present day, we're excited to introduce the CropBytes CB Army App, which is a result of the resounding success of the previous program.

In the CB Army App, you'll embark on missions that challenge your wit and creativity. Every action you take earns you precious CB XPs.

If you're creative and passionate about content creation, this is your stage to shine. Your mission begins now. Start your journey with the CB Army App, where creativity grows, and rewards flourish.
How to use the App:
Sign up: To embark on your journey with the CropBytes CB Army App, the initial step is to complete the sign-up process. In case you haven't already established an account with CropBytes, your first task would be to create one. Once your CropBytes account is successfully created, the next action is to register for the CB Army.
This step ensures that you gain access to the intricate functionalities of the CB Army App, allowing you to harness its full potential. By following this sign-up process, you position yourself to explore the opportunities and experiences that await within the app's domain.
Complete the welcome missions: Upon signing up for the CB Army app and landing on the Welcome Sprint, your journey begins. The first mission, as an initiate in the CB Army, is to unlock your initial CB XPs.

Navigate to the Redeem Gift section, which serves as your starting point.

You will be provided with specific tasks to complete. Execute these tasks diligently, as they will not only bolster your CB XPs but also acquaint you with the app's functionalities.

Dashboard: The next step is to visit the dashboard. The dashboard provides access to an array of essential features and information. Upon entering the dashboard, you can seamlessly explore its various sections, accessing vital tools and resources at your fingertips.

Once you have familiarised yourself with the dashboard, take the time to peruse the articles available. These articles are designed to provide valuable insights and guidance, ensuring that you are well-informed about the app's functionalities and how to make the most of them.

There will be weekly Sprints, each featuring tasks designed to earn you CBXPs. By participating in these tasks, you not only enhance your understanding of the platform but also unlock valuable rewards and opportunities for growth.

Stay engaged by frequently visiting the app and staying tuned to our official announcement channels. We'll keep you informed about upcoming Sprints, ensuring you never miss an opportunity to earn valuable rewards.

How to redeem CB XPs: To redeem your CB XPs efficiently through the CB Army app, follow these steps.
Know Value of CB XPs: Start by understanding the current exchange rate of CB XPs to assets. This will help you gauge the value of your earnings.
Check Owned CB XPs: Review the CB XPs you currently own to see if you have accumulated enough to redeem for assets.
Redeemed CB XPs: Keep track of your redemptions to monitor your progress and assess your future goals.
Locked CB XPs: Check if any of your CB XPs are currently locked or unavailable for redemption.
Request for Redemption: When you're ready to redeem, initiate the redemption process through the app. Simply follow the app's user-friendly interface to submit your request.
Rest assured, our dedicated team will swiftly process your redemption request and you get the assets airdropped in your CropBytes Farm. You will be able to verify the airdrops in the rewards history page in the game.
Please note that your CB Army Email ID cannot be changed. However, if you wish to modify your Discord ID, we have implemented a secure process to ensure the integrity of our platform. To initiate a Discord ID change, you will be redirected to our dedicated support team. This measure is in place to maintain the app's security and to prevent any potential misuse. We believe in keeping your experience smooth and secure, and we appreciate your understanding as we strive to provide a safe environment for all our users.
As a dedicated member of the CB Army, your role is multifaceted. You'll sharpen your gaming skills and economic understanding through our events while becoming well-versed in CropBytes' values and mission. Your motivation will be the driving force behind growing our gaming community through engaging activities. In essence, you're an integral part of our mission to thrive in the world of CropBytes.
For any more queries, please write to support@cropbytes.com or raise a support ticket from https://support.cropbytes.com/support/tickets/new