A virtual farming game where you can buy and sell animals, lands, buildings, machines etc.. Once you sign in, you can mark your land on game map and name your farm. People who are  passing nearby or who are  searching close to that area can visit your farm and chat with you to make a deal. If you have anything to sell, you can put it in your  status board in your farm.
Crop Lands
As the name indicates crop lands are where you can  grow crops. It is divided into two types.
Normal Crop Land
Crop Land with Lake Side view
These are available in various sizes like 2×2, 2×3, 4×4 etc.. You can buy crop lands in flash sales which are held 3 times per day every 8 hours. All lands are limited in supply and its price may vary depending on supply and demand. The current market price of the land will be displayed in the games "Market" tab. Crop lands with lake side view will have water supply all the time.
Note : You can not mark your land near to another player's land, a minimum radius of 1 km around each land on map view is required.
Crops
You can purchase seeds from the flash sale and there will three types of crops.
Corn –  36 hours
Blueberries – 48 hours
Carrots – 42 hours
Every farm will get a limited supply of water every day,  which can be stored in a tank. Once the crops are grown you can feed it to your animals or you can sell them in the market as per the market price. Price will vary as per the market supply and demand.
Animals & Breeding
Just like croplands, you can buy various animals which include different types of cows, goats, hens, ox, rabbits, horse etc. You can breed a rare animal from your existing animals collection. Breeding will take 1/4th of the time of original incubation period of an animal in the real world. Incubation period of some animals that have a very long incubation period in real time will be 1/6th in the game.
When you grow a new animal through breeding you can get some random amount of TRX coins and the new animal will look like a mix breed whose characteristics will be a mix of their parents. So if you breed a cute animal, you can sell in market for higher price.
All animals will have health indicators, which indicate Health, Activeness & Stamina. If all three bars have maximum value then that will the best animal, but you have to work hard to reach maximum indicator level. You need to feed an animal 2 times per day to maintain 100% health bar. And animals will stay alive as long as it maintain a health bar above 15%.
Each animal will have their own unique features, like some can eat less and give more resources, some can eat high and give less resources but can breed many times. All the characters & features will be explained in the game index which will be releasing soon.
Events
When the game is fully  balanced, we will be conducting events like the Horse Race. The horse that is higher in the average of 3 health indicators will win the race. No one else can see health indicators except the horse owner. For example if I have a horse with an average health of 94.3%, then I will win if there is no other horse in the race is having more than 94.3% of average health.
Animal Extracts
Daily feeding of animals wont be expensive, as you will get resources worth more than what you spend on food to feed your animals. Goods like milk, eggs etc. which you get from animals can be directly sold to game stock or you can sell it to other players who need it or exchange it with an Game Coins (GC). GC will help you purchase in game assets like homes, power generators, motors etc.
Super Heroes
There will be 6 super heroes in the game who are rabbits. Each one of them will have a unique quality which will help you maintain your farm better and earn bigger returns.
Waterl (male)
Healer (female)
Bloosm (female)
Chichu (male)
Green (female)
Ss (male)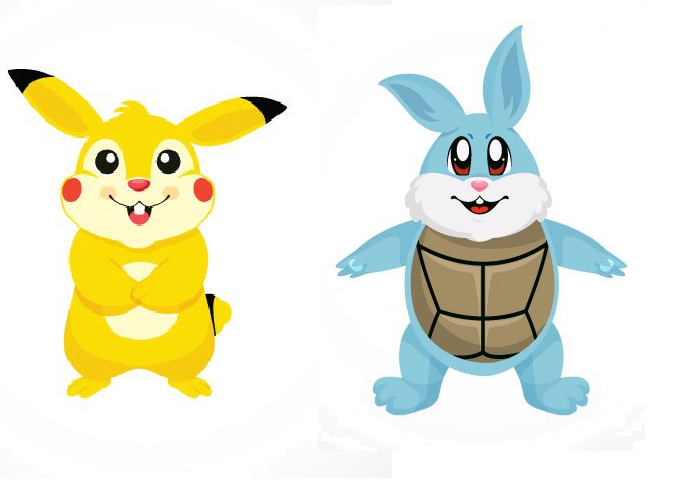 Initially there will be only 8,000 super heroes available in the game and their count will be increased only through breeding. Breeding of super heroes will unlock a new super hero of next level. You can keep super heroes only if you have a house. Level 1 house can keep a pair of super heroes and 2 baby super heroes .
Chat Feature
There is a inbuilt chat option for players, which makes buying, selling or exchanges easier among players.
Advantages for Early Investors
Prices of all the packages are listed with 20% to 35% discount compared to original prices in the game.
150 super heroes will be released among people who purchased the farm paradise package. Farm paradise package is also limited.
Risk Factors
We would also like to share a few risks involved in the game openly, because we know the value of your hard earned money.
Price of the assets in game may go up when everyone is purchasing that and may drop when everyone selling it back. We suggest you to think carefully before purchasing an asset when it is having high price compare to its standard price. However it won't go lower than a standard price because all assets are limited and we will bring them into the market very carefully as per the demand. All the players can see the live number of sold assets & total circulation of particular type.
Feed your pets regularly and maintain a good health bar for it. You can sell back the particular pet back to game market or to any other player only when it's health bar is more than 50%.
It is better not to keep more male pets, because males doesn't produce any extracts like female pets, they will produce a small amount of Game Coins which can be used to upgrade and purchase assets like houses. Male pets in the game will be useful for breeding & other players can hire your male pet for breeding in future.
Crop land owners are ones who produce the food for all animals, sometimes there is a chance that crop land owners may hold food stocks in order to raise the price of food, which may affect the daily profits of pets owners. To avoid these kind of situations we have kept an expiry date for each crops, so that crops owners will sell these crops in game market before expiry date and prices will be controlled.
Note :  Employees/Developers of CropBytes are not allowed to play this game.