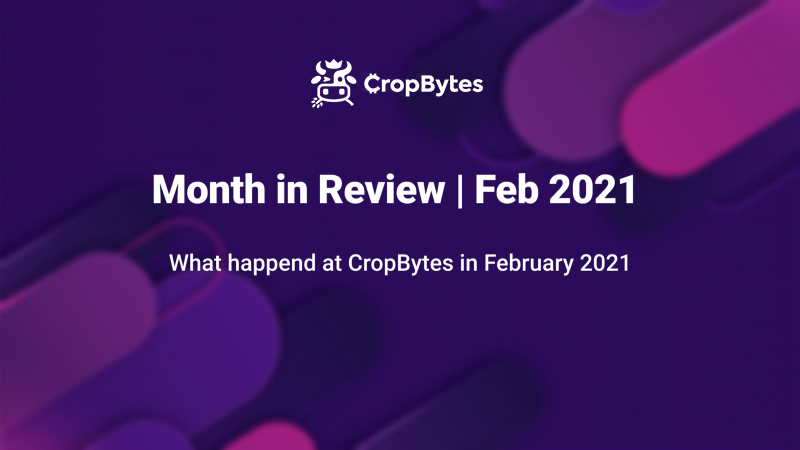 What happened at CropBytes in February 2021
Hey Farmers 👨‍🌾
Are you making the most of your investment in CropBytes by playing daily?
The bull run this year has kept everyone on their toes, with Bitcoin almost hitting $60,000 and alt-coins following with even bigger gains.
Millions of people are now jumping aboard NFT & crypto gaming, experts forecast major growth in these segments.
We too have many new releases lined up for you, Meanwhile, let's take a look at what we've been up to in the past month.
Releases ✅
Deflation Protocol: A deflationary protocol for Game Coins. Learn more.
Starter packs: Asset bundles to help you get started on your farm. Buy Now.
Guide: Quick 3 step instructions to get you started on your farm.
Visit a Co-player's farm: Visit a friend's farm and check out their assets & inventory.
Updated extracts: All-new animal extracts like feathers, horsehair & fur. Learn more.
History pages: A log of all your transactions in one place, view now.
Fixes ⚙️
Bug fixes.
App optimization.
Code cleanup.
What we're building [Ongoing] 👩‍💻
Implementing additional use case for water.
Implementing use case for power.
Enabling feeding & produce for GC assets.
Fishing.
Some highlights ✨
Total users over 25,000.
Play Store rating over 4 stars.
Over 40k TRX earned in referral rewards

This year is big for crypto, we have more awesome features lined up, stay tuned to our Telegram channel to be the first to know all about them!
Keep playing and earning 🙌
Cheers,
Team CropBytes👨‍🌾
---
CropBytes Community: Join Now
CropBytes Channel: Subscribe
Download the app: Android | IOS
We are Social: Facebook, Twitter, YouTube, Instagram