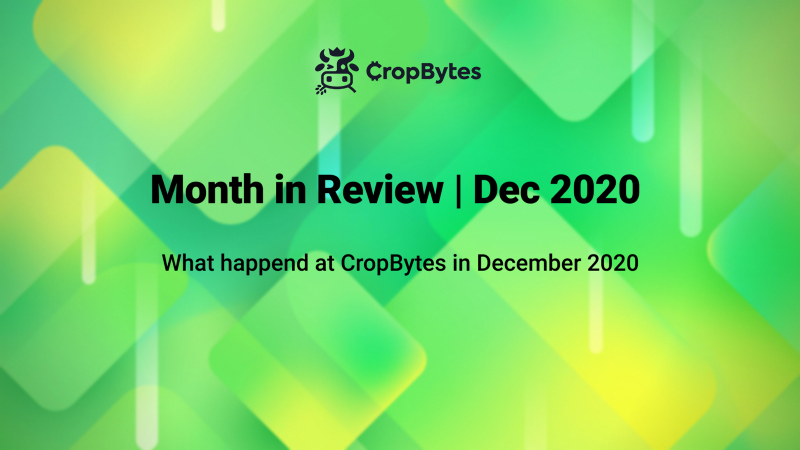 What happened at CropBytes in December 2020
Hey Farmers 👨‍🌾
Happy New year! 🎉
We hope you enjoyed the holidays playing & earning on CropBytes.
The year 2021 looks great for crypto. Within the first 2 weeks, Bitcoin (BTC) crossed 40k USD while the total valuation of the crypto market crossed $1.1 trillion.
With the 'Alt Season' approaching, the crypto world is ready to jump back into action.
We too have a lot of exciting stuff lined up for this year, check out our action plan for upcoming releases.
Meanwhile, here's a look at all the cool stuff we did in December 👇
Markets Launched 🚀
Well (WELL)
Feed Mill (FM)
Dor (DOR)
Black Bull (BB)
Banana Tree (BT)
Pygmy Cream Goat (PCG)
Visit the CropBytes Exchange to see all the markets.
Events🏆
Christmas Event
OCL/TRX trading contest
Releases ✅
Portfolio Screen : Quickly browse through assets & funds
Winter theme : Live snow & decorations on your farm
Asset optimization : Easily move lakes and trees back to your inventory for trading.
New animations that make your farm come alive.
Performance improvements.
Order history : A log of all your buy and sell orders
Fixes ⚙️
Bug fixes
App optimization
Code cleanup
What we're building [Ongoing] 👩‍💻
Auto-Withdrawal: Live in testing, Releasing soon.
NUX- improvements: Improved onboarding and new user experience.
History Page: A log of your game history.
Enabling GC Assets.
Some highlights ✨
Play Store downloads crossed 10,000!
New investments up by 25%
Get ready for more awesome stuff coming your way in 2021, Thank you for being part of the CropBytes family, we hope you have a great year ahead.
Keep playing and earning 🙌
Cheers,
Team CropBytes👨‍🌾
---