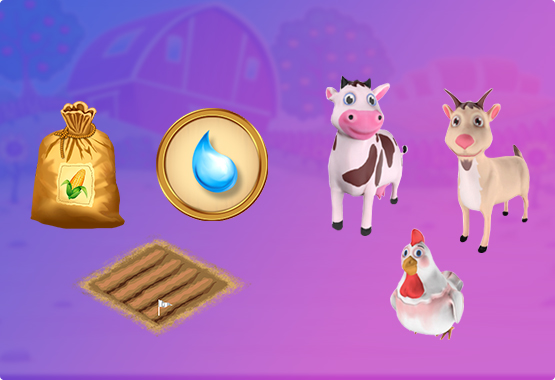 Hello Farmers,Trial packs are now available!
The Trial pack enables new users to start playing right away.
Claim your free assets here.
It features 3D animals (cow, goat, hen) which give milk and eggs as extracts.
These extracts can be traded in the open market or exchanged for Game Coins ! You get 50 Corn Feed & 10 Fruit Feed to feed your animals
You also get a 1×1 Crop Land to grow crops, 50 units of water for the crops, 50 units Corn Seeds.
A quick look at the game play
Feeding Animals
Feed animals daily to collect extracts. If animals are not fed daily, they will loose health stats.
Growing Crops
The harvested crop can be processed for animal feed & sold in the open market.
Harvesting Crops
Grinding Crops
Converting Extracts to Game Coins
Game Coins can be used to acquire special assets & can also be traded in the GC market.
Trading Game Coins to TRX
Claim yours now https://cropbytes.com/store
Terms & Conditions — Trail Pack
The Trial pack can be claimed only once per user.
Assets in the Trial pack are for a limited period only.
Assets in the Trial pack are non-tradable.
Extracts from the Trial pack assets are tradable & the acquired TRX/ Game Coins can be used for other purchases.
CropBytes has all rights to block players if found misusing Trial packs.
Trial packs are to encourage new users to start playing CropBytes without hassle.
The free trial pack will be available for only 7 Days from sign up.